Massage Therapy in Point Cook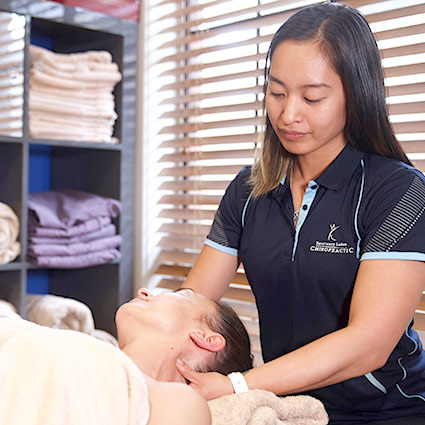 Our chiropractors recommend massage therapy to people who need a little extra muscle work to achieve the results they're looking for. This type of bodywork, in conjunction with chiropractic care, provides better results in a shorter period of time. Having massage therapy before seeing your chiropractor helps chiropractic adjustments go deeper and hold longer.
Once out of the crisis stage, many patients choose to have this therapy between their wellness visits to help maintain their results.
More Than Just Relaxation
At Sanctuary Lakes Chiropractic, we offer these levels of care:
Relaxation: various techniques are used to help relax sore, tired muscles and loosen stressful tension that's built up inside.
Remedial/Deep Tissue: a therapeutic type of bodywork to help restore function to injured "soft tissue" (muscle, tendons and ligaments). It's a strong, deep massage, which is great for muscle spasms and dissolving muscle tension. Requires two years of training.
Myotherapy/Sports: an advanced form of remedial massage, such as sports massage or medical massage. Uses trigger point release and other techniques to relieve muscle and myofascial pain, enhance performance and speed recovery. Requires advanced training.
Cupping Method
Your therapist may also use cupping, an ancient method used to speed healing in a particular location. It causes tissues to release toxins, activate the lymphatic system, help activate and clear the veins, arteries and capillaries, activate the skin, and release any fascia build-ups. Cupping is the best deep-tissue form of bodywork available.
Myofascial Release
Myofascial release is another helpful hands-on technique, providing sustained pressure on myofascial restrictions to eliminate pain and restore motion. Experiencing physical trauma, scarring, or inflammation causes the fascia to lose its pliability and become tight, restricted, and a source of tension to the rest of the body. This affects our flexibility and stability. Myofascial release is a means to remove that tension, and relieve your pain.
Schedule a Visit Today
Massage therapy has many ways to help relieve your pain and restore function, flexibility, and movement to your body. To schedule an appointment, contact our Point Cook clinic today.
CONTACT US »
---
Massage Therapy Point Cook, South Yarra VIC | (03) 9369 7987