Clinical Pilates in Point Cook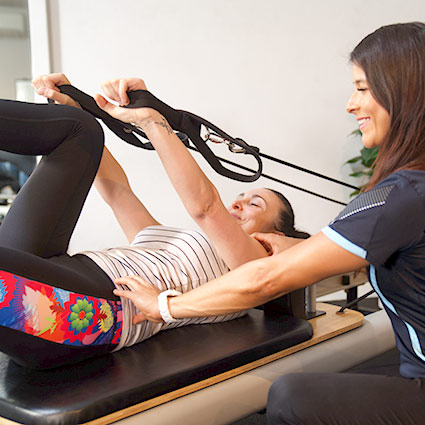 In our rehabilitation gym, in addition to the squat racks, weights, and other equipment used for our exercise prescriptions, we also have a Pilates reformer table. Dr Fabiola (Chiropractor) is a Clinical Pilates Clinician and is available for appointments in our Point Cook clinic.
Exercise Prescription
After you have gotten past the crisis care stage of your care plan, we start strengthening your body to prevent recurrence of the problem. Your exercise prescription is based on five principles: type, duration, frequency, intensity, and volume. Type refers to the mode of exercise training, with the main forms being aerobic (i.e. endurance training), resistance (i.e. strength training), flexibility, and balance.
The length and number of exercise sessions performed within a given time frame are described by duration and frequency, respectively. Clinical Pilates may also be added to your routine.
What Are Some Benefits?
Patient-specific clinical pilates is used after crisis care has been completed to heal an injury or trauma. Unlike the regular form of this mind-body exercise, it's based on the individual's specific injuries and physical needs. The benefits of this approach include improvements in posture, flexibility, muscle strength, control, balance, and core, and pelvic floor strengthening.
A clinical assessment by a certified instructor is necessary before beginning a clinical pilates program. At Sanctuary Lakes Chiropractic, Dr Fabiola has the knowledge and training as a chiropractor to tailor a program with targeted exercises that improve and address your needs and reduces the risk of injury.
Equipment We Use
We use specific equipment, including Pilates Reformer and other rehab equipment to condition your entire body. Dr Fabiola will determine which equipment and exercises are best for your rehabilitation and strengthening routine, and ensure they work well with your exercise prescription.
Find Out More
Contact our clinic to find out more about clinical pilates and how it may help you achieve your health goals faster. Contact us and speak with someone today!
CONTACT US »
---
Clinical Pilates Point Cook VIC | (03) 9369 7987