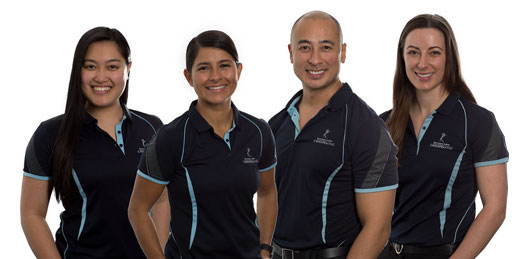 Point Cook Chiropractors
Point Cook and South Yarra Chiropractor:
Dr Brian Resurreccion (Chiropractor/Director)
Chiropractor Dr Brian's passion for health and fitness stemmed early in his years competing in various sports such as basketball, volleyball, athletics and swimming at club and at university levels. He completed his Bachelor of Applied Science in Human Movement with studies focusing on biomechanics, rehabilitation, exercise prescription and nutrition. He has over 10 years experience as a Fitness Advisor and Personal Trainer working in various fitness centres around Melbourne.
In this time he furthered his studies in chiropractic gaining a double degree in Clinical Science and Chiropractic Science. In his eight years of full time study, Brian covered professional courses including anatomy, physiology, radiology, pathology, diagnosis and other sciences but he lists biomechanics, radiology, neurology and clinical skills among his favourites.…read more about Dr Brian »
After graduating from RMIT University he worked in various Chiropractic Clinics around Melbourne before settling in Point Cook. "Each year," continues Brian, "I enjoy attending various seminars and workshops to keep up with the latest in research and developments in the chiropractic profession."
There is a strong sense of community in our practice. As a local resident of Point Cook himself of over 15 years, he has seen the area blossom and has enjoyed being a source of quality natural health care over the years.
He has special interest in Sports Chiropractic as well as Paediatric Chiropractic and takes great joy in assisting these groups. He has attained an advanced training in Sports Chiropractic gaining his International Chiropractic Sports Science Diploma which allows him to treat at international sporting events such as the Olympic Games and World Games. He has completed advanced studies in Paediatric Chiropractic.
"We love sceptics," says Brian. "I still remember the concerns and apprehension I had when I went to the chiropractor for the first time. So we make it a point to explain everything in advance, answer questions and attempt to over communicate. Patients appreciate that."
Brian is married to Dr Fabiola, who has many roles at the practice. They work tremendously well as a team and their patients really appreciate the personal attention they receive at the practice.
Brian and Fabiola are great proponents of healthy living and when not joyfully caring for their patients, they can often be found exercising at the local gym, jogging in the streets or walking their dog. They understand that health is a lifestyle choice.
"Thanks for visiting our site. I look forward to meeting you in person and learning how we may be of service to you. Give our office a call, or email me using the link below and let's arrange a time to explore your options."
---
Point Cook and South Yarra Chiropractor:
Dr Fabiola Resurreccion (Chiropractor/Director)
Dr Fabiola Resurreccion attended RMIT University in Melbourne, where she received a Bachelor of Health Science and her Masters of Chiropractic. Dr Fabiola strives to take her patients well beyond pain relief and towards reaching their fullest health potential. She is passionate about providing the best quality chiropractic care for families from newborns to the elderly. Dr Fabiola performs a variety of techniques including low force methods (Activator/Drop piece), Sacro Occipital Technique (SOT), Diversified and Gonstead Spinal Adjustments, Mobilisations, Specific Rehabilitation Exercises, Clinical Pilates, Dry Needling, Deep Tissue Release Techniques (Myofascial Release, Cross Friction and Trigger Point Therapy). Dr Fabiola has chosen to devote her life to assisting people with their health and performance through chiropractic and health education. This passion to contribute has stemmed over a number of years where she worked as a Remedial Massage Therapist.…read more about Dr Fabiola »
In 2012 Fabiola took part in a charity organisation (International Children's Care Australia) where they volunteered their time in Cambodia to give chiropractic care to orphanages and families in villages. That experience further cemented her desire to serve others. As a member of the
CAA (Chiropractic Association of Australia)
she is part of an ongoing learning environment being presented with new modalities and learning opportunities to strengthen her understanding of chiropractic and deliver the best care possible. Dr Fabiola is continually furthering her knowledge to stay up to date with the latest treatment techniques and is currently completing her post-graduate studies in Sports Chiropractic. Dr Fabiola is married to Dr Brian Resurreccion who is also a Chiropractor and also works in the same clinics. When she is not in the office, she enjoys spending as much time as she can with her two young children and her husband. She enjoys walking her dog and getting outside of her comfort zone. This includes pushing herself physically with strength training, Crossfit and weekend yoga. As a chiropractor, she takes an all-natural approach to parenting. Healthy eating and exercising regularly allows Dr. Fabiola to maintain balance in her life. In pursuit of her native roots from Nicaragua, Central America Dr Fabiola decided to create an active wear brand called VIDAACTIV which translates to "Life Active" in Spanish. She lives by her mantra "Viva la vida!" (Live your life!) Areas of Interest: Women's Health, Pilates and Yoga, Musculoskeletal Complaints, Sports Injury Management, Injury Rehabilitation and Improving Sports Performance, Posture and Ergonomics, Chronic pain. She looks forward to helping you and your family reach your optimal health potential.
---
Point Cook Chiropractor: Dr Tonilee Pelz
After completing her Bachelor of Applied Science and Masters of Clinical Chiropractic at RMIT University,Dr Tonilee acquired postgraduate studies in sports chiropractic (ICSSP). Her special interests include:
Sports chiropractic
Pre and post-natal care for mums
Gentle care for children &bubs
Supporting kids & teens in sport studies
Sympathetic Dominance (nervous system under stress)
TLC pregnancy care
Inspiral (paediatric development)
Sacral Occipital Technique SOT(gentle low force technique)
Rocktape (sports taping)
Current studies: Functional Neuro-Orthopedic Rehabilitation
…read more about Dr. Tonilee »
With the rest of her family, Dr Tonilee was privileged to receive regular chiropractic care from a young age. She experienced firsthand the impact of chiropractic on her development, health and wellbeing. Dr Tonilee is passionate about providing the highest quality of care for the entire family: from babies,pregnancy to grandparents. Dr Tonilee came from an active background where she enjoyed all sports, in particular athletics, touch footy & equestrian. This sparked her interested in sports chiropractic and exercise rehab. She is currently undergoing her1-year Functional Neuro-Orthopaedic Rehabilitation (FNOR)certification program. Dr Tonilee enjoys using a diverse range of techniques ranging from gentle care for kids to the stronger techniques used with athletes. She incorporates a holistic approach looking at the physical, chemical(nutritional) and emotional well-being for her patients. Outside working and study, you will find Dr Tonilee playing with her puppy Murphy, keeping fit or travelling. Growing up in country Victoria has influenced Dr Tonilee's love for travel and activities. An ideal day for Dr Tonilee is somewhere out on the water with friends and family, enjoying water sports.
---
Point Cook Chiropractor: Dr Sheila Phan
Dr Sheila Phan has been passionate about chiropractic since she graduated from high school. Her passion stems from the aspiration of being able to promote better health and lifestyle within the broader community. She has worked at the Fitzroy Stars Football Club and Hands on Health Intercare (located in the Philippines) where her roles included clinical examinations chiropractic adjustments, the application of rigid and kinesiosports tape, dry needling and low force modalities. These skills are useful for treating patients of all age groups. Dr Sheila actively attends her local gym where she aims to constantly improve upon her strength, cardiovascular health and general well-being. She also enjoys going for daily walks and spending time with her family and friends. She also enjoys traveling on new adventures, experiencing new activities and cultures. She is looking forward to meet you and your family and provide quality chiropractic care to help you with your overall health and well-being.
---
Point Cook Remedial Massage Therapists/Myotherapists
Ilma Kurudzija, Remedial Massage Therapist
Ilma has aDiploma in Remedial Massage Therapy and has over 10 years experience working inClinical, Rehabilitative & Sporting Environments including Hospitals,Chiropractic, Physiotherapy and Naturopathic practices along with local footyclubs as well as elite teams such Richmond Football Club. She is available for appointments Tuesday and Thursday.
---
Besmir Pollogati, Remedial Massage Therapist
Besmir has been in health industry for 9 years. After being a paramedic, he decided to pursue remedial massage therapy to continue his passion for healing and helping people improve their lifestyle. His extensive medical background helps him better understand and meet peoples needs.
In the last three years of working as a remedial massage therapist he has worked with different health professionals which has helped him further advance his knowledge and experience in approaching people's health.
He can also speak fluent Italian and Albanian, and in his free time he loves to engage in extreme sports and listen to music.
---
Keisha Walsh, Remedial Massage Therapist | Myotherapist
Keisha has a Bachelor Health Science -She aims to tailor treatment plans to decrease pain and increase mobility for every individual. Keisha is a qualified personal trainer and registered Strength and Conditioning Coach. She has worked as a S&C Coach with female junior elite footballers, and as a sports trainer with a VFL club. She has a passion for combining rehabilitation exercises and manual therapies to help lead the best quality of life.
---
Administrative Team
Kellie Harler, Chiropractic Assistant/ Nutritionist
Kellie is originally from Perth and loves the sunshine and the ocean. She is now based in Melbourne and is currently studying Nutritional Medicine. She is looking forward to educating people about healthy living and has a big interest in children's nutrition. Kellie's previous background is in the field of event coordinating and medical reception. Kellie's favorite thing to do is spending time with loved ones and her cheeky puppy. She also loves traveling, cooking, exploring new places, and reading.
---
Rochelle Darmanin, Chiropractic Assistant
Rochelle has returned to work at Sanctuary Lakes Chiropractic after a break to have her two boys. She loves learning about all things health related and has been receiving chiropractic care for 12 years so understands the importance of a healthy lifestyle. Rochelle loves to spend time with family and friends, and enjoys cooking, growing her own food and practicing yoga.
---
Sonia Baxter, Chiropractic Assistant
Sonia previously worked as a Manager in a childcare centre and has spent over 15 years within the industry, caring for children and their families. Originally from the UK, Sonia has spent her life travelling with her husband's job and even spent 4 1/2 years living in Saudi Arabia before moving to Australia 11 years ago. Her first career step was as Airline cabin crew, where she met her husband.
Sonia has studied and gained a Diploma in Children's services and Beauty therapy. She is a local resident and enjoys time with family.
She has two daughters and a beagle. Sonia is very passionate about well being and engages in yoga five times a week. She is also very keen to continue with her travels around the world and has been very fortunate to visit many countries.
---
Book An Appointment Today
If you think that you or a loved one is a good candidate for chiropractic care through either our Point Cook or South Yarra fill out the form below to arrange a thorough examination in our practice.