Our Chiropractic Techniques
We use a number of highly-effective adjusting approaches to help improve spinal biomechanics and reduce nervous system interference. The approach we use is based on our clinical judgment and years of experience.
The primary adjusting techniques we use include: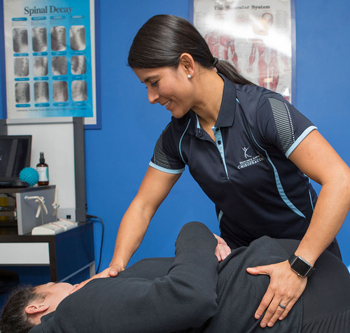 Gonstead
This full spine approach relies on X-rays and a heat-sensing instrument for a thorough evaluation and documented results. read more»
Diversified
After identifying which vertebrae have lost their normal motion or position, a specific manual thrust is applied to free up "stuck" spinal joints. read more»
SOT®
Sacro Occipital Technique® helps normalize the relationship between the pelvis and the head, using gravity to make the necessary correction. read more»
The Activator Method
The Activator Method chiropractic technique uses a spring-loaded, hand-held mechanical instrument called the Activator adjusting instrument. This instrument allows chiropractors to provide a quick, low-force impulse at specific points.
Dry Needling
Treatment involves the insertion of solid, filament needle, as is used in the practice of acupuncture, usually in or around Myofascial Trigger Points. Myofascial Trigger Points have been described as a hyper-irritable spot within a skeletal muscle. Myofascial Trigger Points are points in muscles which are painful when pushed. Trigger points can refer pain and create dysfunction else where in the body.
IASTM
Instrument Assisted Soft Tissue Mobilisation or Simply IASTM is a new range of tool which enables clinicians to efficiently locate and treat individuals diagnosed with soft tissue dysfunction. Instruments effectively break down fascial restrictions and scar tissue. The ergonomic design of these instruments provides the clinician with the ability to locate restrictions and allows the clinician to treat the affected area with the appropriate amount of pressure.
Sports Taping (Rigid and Kinesiology)
Taping is used to provide support or relief to injured athletes, although some also use it preventatively. Taping can be used in different ways for different issues and can achieve a variety of results.
Exercise Prescription
Exercise prescription is based on 5 principles: type, duration, frequency, intensity, and volume. Type refers to mode of exercise training, with the main forms being aerobics (i.e. endurance training), resistance (i.e. strength training), flexibility, and balance. The length and number of exercise sessions performed within a given time frame, are described by duration and frequency, respectively.
Clinical Reformer Pilates
Clinical Pilates is a form of exercise that uses specialised Pilates equipment (including Pilates Reformer, Trapeze / Cadillac Reformer, Spine Corrector and Wunda Chair) to condition your entire body. It focuses on improving posture, core stability, balance, flexibility, mobility and strength. Dr Fabiola Resurreccion is a Clinical Pilates Clinician and available for appointments in our Point Cook clinic.
Onsite Digital X-Rays
We have state-of-the-art digital x-ray facilities. All of our chiropractors have received training in radiography (taking the images) and radiology (interpreting the images) as part of their university education.
X-ray images are taken by your chiropractor when clinically recommended. There is no need to go elsewhere and in most cases we are able to help you on the same day as your appointment. Digital X-ray provides low dose radiation and takes approximately 5 minutes to complete a full spine series. Your X-rays are made available to you via email for future reference.
X-ray images may be required after a thorough history and examination to:
rule out any serious pathology
confirm a diagnosis or pathology
determine if chiropractic care is appropriate for you
identify any contraindications or factors that would affect or modify the type of care recommended.
If you've been to a chiropractor before and prefer to be adjusted in a particular way, let Dr Brian Resurreccion & Dr Fabiola Resurreccion (Chiropractors) know. We want you to relax, enjoy and fully benefit from your chiropractic care.