Meet the South Yarra Team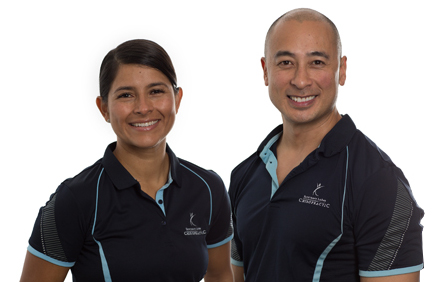 South Yarra Chiropractors
Point Cook and South Yarra Chiropractor:
Dr Brian Resurreccion (Chiropractor/Director)
Chiropractor Dr Brian's passion for health and fitness stemmed early in his years competing in various sports such as basketball, volleyball, athletics and swimming at club and at university levels. He completed his Bachelor of Applied Science in Human Movement with studies focusing on biomechanics, rehabilitation, exercise prescription and nutrition. He has over 10 years experience as a Fitness Advisor and Personal Trainer working in various fitness centres around Melbourne. In this time he furthered his studies in chiropractic gaining a double degree in Clinical Science and Chiropractic Science. In his eight years of full time study, Brian covered professional courses including anatomy, physiology, radiology, pathology, diagnosis and other sciences but he lists biomechanics, radiology, neurology and clinical skills among his favourites. After graduating from RMIT University he worked in various Chiropractic Clinics around Melbourne before settling in Point Cook. "Each year," continues Brian, "I enjoy attending various seminars and workshops to keep up with the latest in research and developments in the chiropractic profession." There is a strong sense of community in our practice. As a local resident of Point Cook himself of over 17 years, he has seen the area blossom and has enjoyed being a source of quality natural health care over the years.…read more about Dr Brian »
He has special interest in Sports Chiropractic as well as Paediatric Chiropractic and takes great joy in assisting these groups. He has attained an advanced training in Sports Chiropractic gaining his International Chiropractic Sports Science Diploma which allows him to treat at international sporting events such as the Olympic Games and World Games. He has completed advanced studies in Paediatric Chiropractic. "We love sceptics," says Brian. "I still remember the concerns and apprehension I had when I went to the chiropractor for the first time. So we make it a point to explain everything in advance, answer questions and attempt to over communicate. Patients appreciate that." Brian is married to Dr Fabiola, who has many roles at the practice. They work tremendously well as a team and their patients really appreciate the personal attention they receive at the practice. Brian and Fabiola are great proponents of healthy living and when not joyfully caring for their patients, they can often be found exercising at the local gym, jogging in the streets or walking their dog. They understand that health is a lifestyle choice. "Thanks for visiting our site. I look forward to meeting you in person and learning how we may be of service to you. Give our office a call, or email me using the link below and let's arrange a time to explore your options."
---
Point Cook and South Yarra Chiropractor:
Dr Fabiola Resurreccion (Chiropractor/Director)
Dr Fabiola Resurreccion attended RMIT University in Melbourne, where she received a Bachelor of Health Science and her Masters of Chiropractic. Dr Fabiola strives to take her patients well beyond pain relief and towards reaching their fullest health potential. She is passionate about providing the best quality chiropractic care for families from newborns to the elderly. Dr Fabiola performs a variety of techniques including low force methods (Activator/Drop piece), Sacro Occipital Technique (SOT), Diversified and Gonstead Spinal Adjustments, Mobilisations, Specific Rehabilitation Exercises, Clinical Pilates, Dry Needling, Deep Tissue Release Techniques (Myofascial Release, Cross Friction and Trigger Point Therapy).
Dr Fabiola has chosen to devote her life to assisting people with their health and performance through chiropractic and health education. This passion to contribute has stemmed over a number of years where she worked as a Remedial Massage Therapist.
In 2012 Fabiola took part in a charity organisation (International Children's Care Australia) where they volunteered their time in Cambodia to give chiropractic care to orphanages and families in villages. That experience further cemented her desire to serve others. As a member of the CAA (Chiropractic Association of Australia) she is part of an ongoing learning environment being presented with new modalities and learning opportunities to strengthen her understanding of chiropractic and deliver the best care possible.
Dr Fabiola is continually furthering her knowledge to stay up to date with the latest treatment techniques and has completed her post-graduate studies in Sports Chiropractic. Dr Fabiola is married to Dr Brian Resurreccion who is also a Chiropractor and also works in the same clinics. When she is not in the office, she enjoys spending as much time as she can with her two young children and her husband. She enjoys walking her dog and getting outside of her comfort zone. This includes pushing herself physically with strength training, Crossfit, boxing and weekend yoga.
As a chiropractor, she takes an all-natural approach to parenting. Healthy eating and exercising regularly allows Dr. Fabiola to maintain balance in her life. In pursuit of her native roots from Nicaragua, Central America Dr Fabiola decided to create an active wear brand called VIDAACTIV which translates to "Life Active" in Spanish. She lives by her mantra "Viva la vida!" (Live your life!) Areas of Interest: Women's Health, Pilates and Yoga, Musculoskeletal Complaints, Sports Injury Management, Injury Rehabilitation and Improving Sports Performance, Posture and Ergonomics, Chronic pain. She looks forward to helping you and your family reach your optimal health potential. [/toggle]
---
South Yarra Clinical Psychologists
Lucy Goode, Clinical Psychologist
For appointments and other communication, please contact Lucy directly on 0404 629 219.
---
Dr Richard Norrish, Clinical Psychologist
For appointments and other communication, please contact Dr Norrish directly on 0422 255 145.
---
South Yarra Remedial Massage Therapist
Stella Ann Borland, Remedial Massage Therapist
Stella is a passionate and highly skilled Remedial Massage Therapist. Using techniques such as Cupping, MLD and Deep Tissue Massage to treat all types of conditions from TMJ disorder to SIJ dysfunction.
Stella's passion for helping people move strong and stay injury-free stems from years of working in the fitness industry as a personal trainer, coaching clients from busy stay at home mums to cooperate business owners.
When not managing patients, Stella competes in Masters HQ Crossfit Championship. She's also a busy mum of two small children.
Book your next treatment with Stella by clicking here or calling 0404 978 896.
Contact email: Stella.borland@yahoo.com.au
Appointment availability: Mon 8am-3pm, Tue 8am-12pm (from 5th July, Tue availability will be 8am-6pm)
---
Book An Appointment Today
If you think that you or a loved one is a good candidate for chiropractic care through either ourPoint Cook or South Yarra fill out the form below to arrange a thorough examination in our practice.
---